There are some great blog giveaways right now for all of you who haven't had a chance to but a life-changing copy of The Taco Cleanse yet.
Zsu's Vegan Pantry wants to know how the Taco Cleanse would help you. Contest ends 11:59 PM December 21.
Cadry's Kitchen leave a comment giveaway. Contest ends December 24.
Kittee from Cake Maker to the Stars wants to hear about your expected results on the Taco Cleanse. (She became a Party Magnet.) Contest ends December 26 at 10 PM PST.
---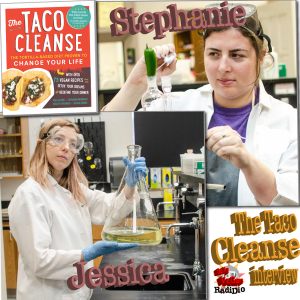 Listen to noted Taco Scientists Stephanie and Jessica talk tacos with Brian of The Sexy Vegan Radidio. Find out how to eat a pizza taco and how to prevent taco neck strain.
---

In Portland or want to be in Portland on January 16 at 4 PM? (We all want to.) Visit Herbivore Clothing to meet Taco Scientists Stephanie and Jessica. Play the infamous Taco Trivia Game, where you could win a shot of tequila or the chance to do Taco Yoga in front of all of your peers.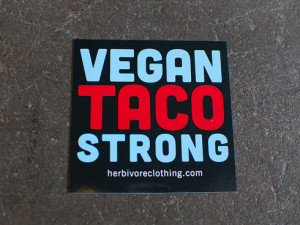 Herbivore Clothing are the makers of the awesome Taco Strong sticker. Declare your allegiance to the Taco by placing it on your water bottler, suit case, or refrigerator.
---
That link to the Taco Cleanse above? It's an affiliate link.