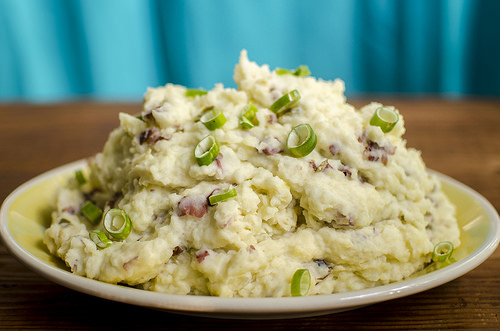 I've always preferred smashed potatoes to mashed potatoes. Maybe it's because I'm too lazy busy to deal with peeling potatoes and bothering with an electric mixer. But honestly, I think I like the chunky texture of smashed potatoes better and it seems a little less like baby food.
There is a popular Tex-Mex dish of "Mexican Mashed Potatoes" which usually involves a ton of velveeta and heavy cream. I wanted something a bit less gloopy but still with a spicy kick, and so these potatoes were created.
They were perfect with the tempeh picadillo from the upcoming Taco Cleanse book, but they'd be great as a base in any saucy taco. You could easily size down this recipe. I really wanted to have leftovers for a few days so this yielded quite a bit. You could also add vegan cheddar or a pepper jack mix if that's how you roll.
Mexican Smashed Potatoes
3 pounds of red potatoes, quartered
1 cup unsweetened soy milk
1/4 cup of vegan blue cheese (or Vegenaise)
1/4 cup of pickled jalapenos, chopped
1/4 cup green onions
3 tablespoons Tofutti cream cheese
1 tablespoon of Earth Balance
1/2 teaspoon salt
In a large pot cover the potatoes with water and boil for about 20 minutes or until fork tender. Remove the potatoes to a strainer, draining off all the water. In the same pot, but with the heat off, mix remaining ingredients. Add potatoes back to the pot and, using a fork or potato masher, smash into desired consistency. Channel any rage you may have at the world during this step so your mind is clear before you eat your tacos. Add more salt and pepper to taste. Enjoy!
---
We weren't compensated by any of the mentioned brands. We just love them.