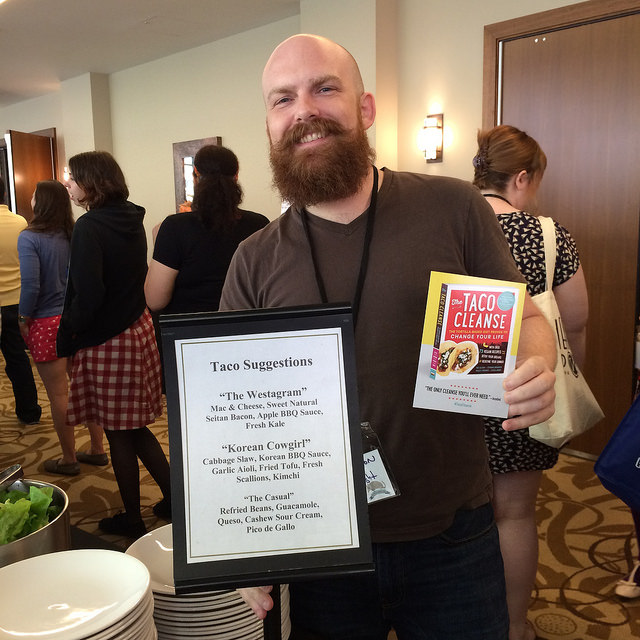 The last weekend of May 2015 the Taco Scientists presented some of their research at the Vida Vegan Conference in Austin, Texas. Many attendees from all over the world embarked on their first Taco Cleanse. We were all thrilled that the conference organizers took our dietary needs seriously and integrated tacos into most of the meals at the conference including the Bazaar and after parties. So many people over the weekend were moved by how consuming tacos can elevate your mood, lead to more social interaction, and improve many of your levels. Excitement over the cleanse was so fierce that the "Westagram" named after Taco Scientist Wes Allison was even suggested at lunch. Mac & Cheese, Seitan Bacon, BBQ sauce, and Fresh Kale were indeed a winning combination and similar recipes are featured in our upcoming book "The Taco Cleanse".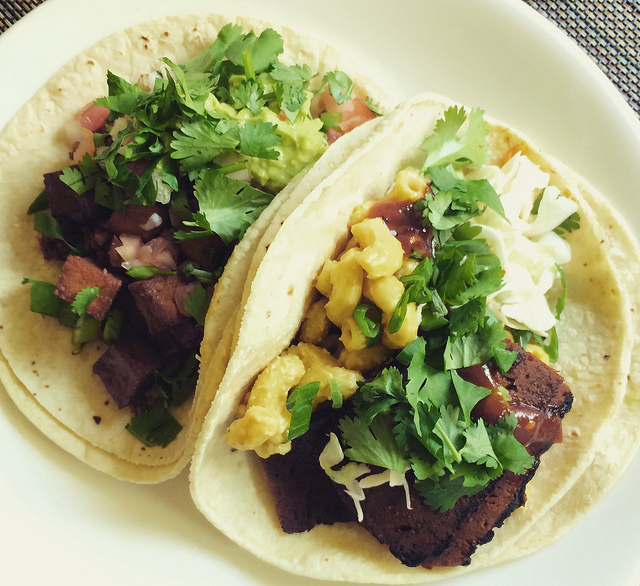 If you can't wait or you want to recreate the version we had at Vida Vegan Conference, Chef Brad has shared his very simple, but very delicious for vegan mac and cheese.
Chef Brad's Mac & Cheese Sauce
Ingredients:
2 tablespoons coconut oil
2 tablespoons flour
2 cups hemp milk
1 cup nutritional yeast
2 teaspoons dijon mustard
2 teaspoons sriracha (vegan-Sky Valley)
Salt and pepper to taste
Directions:
Melt coconut oil over medium heat, then add flour and mix to make a roux
Allow to cook for 5 minutes, then add milk and stir well to keep mixture smooth
Allow to cook for a few minutes, until sauce comes to a simmer
Add nutritional yeast, dijon, sriracha, and spices
Add additional milk if the sauce is too thick for your taste
Adjust flavor with more salt or pepper if you desire
Boil vegan pasta and mix with cheese sauce
Enjoy!